ReliOX Corporation offers innovative methods of on=demand chlorine dioxide generation.
Our Products aim to eliminate the following:
---
Who We Are
RelīOx Corporation is a specialty chemical technology company that specializes in introducing disruptive chemistries into critical industrial and general use applications. Our latest patented chemical technology allows for the first time ever, the on-demand generation of pH neutral aqueous Chlorine Dioxide. Applications for Chlorine Dioxide span health and wellness areas for humans, animals and plants. Our technology enables the introduction of Chlorine Dioxide through an array of convenient delivery devices from large commercial generators to very small handheld generators.
What We Do
Our technology replaces the hazardous, unusable and antiquated multi-step, multi-chemical, blending processes to produce chlorine dioxide with a single-step solid phase reaction.
Why What We Offer Matters
New product development using our technology for markets such as agriculture, cosmetics, healthcare, animal care, wellness, insect control, fungus and mold remediation, odor control and public safety. OEM's interested in delivering Chlorine Dioxide, whether pure, or incorporated into their own process, blend or system can easily insert our technology in order to create new products or enhance and strengthen their existing products.

Explore the benefits of Chlorine Dioxide –
No residual or persistant products, byproducts or odors
Fragrance free
No quaternary compounds
Neutral pH
Most effective oxidizer (uses lower concentrations than other chemicals for better result)
Most efficient oxidizer  (missable in water but does not react with water)
Selective oxidizer (does not waste its time on low value targets)
Safest oxidizer (quickly reduces common salt)
Safe for skin and breathing contact (low concentrations = zero irritation)
Fastest effective time (seeks electron rich pathogens and neutralizes biofilms)
No shipping hazards
No storage of tanks of hazardous or volatile chemicals
No monitoring of complicated system controls
No special permitting or containment requirements
No mixing, diluting or exposure to harmful chemicals
No electrodes to monitor and replace
No waiting hours for an effective product
No wasted time
---
Our Team
Eric Johnson
CEO
Eric has the depth and breadth of leadership, sales, marketing and channels knowledge and experience to bring ReliOx into spaces where it will flourish.
Eric is responsible for growing Phalanx Defense Systems from start-up to a multi-million dollar armor and holster company.
He has a 20-year history of sales leadership, distribution and channel development as well as business development working with startups as well as publicly traded companies.
---
IAN KNAPP
President, Chairman, Co-Founder
Ian brings the depth of product application and developmental experience for the entire ReliOx line.
Ian has held positions such as the Global Director of Marketing for Wheelabrator Water Technologies, CEO of Memtek Corporation and one of three Founders of Xydex (lab products – now GE/Whatman) as well as an Operations Executive for Millipore.
His ability to translate chemistry and chemical interactions into laymen's terms are critical for the education of our clients and potential licensee partners.
---
Christina Knapp
Vice President, Co-Founder
Cristina's insight from her knowledge of customer needs and ReliOx's technology make her a critical member of the ReliOx management team.
As a former sales and marketing team member at Hoffman LaRoche, Cutter Biomedical she provided critical insight and support for the units success.
Her experience as Marketing Communications Manager for Xydex and Cirqua Customized Water will continue to bring unique color to our communications related to ReliOx products.
---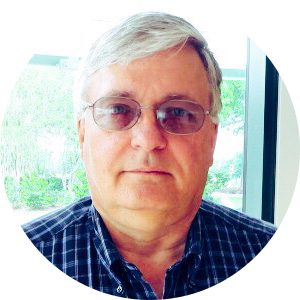 Bruce Tilley, Ph.D.
Vice President of Microbiological Sciences
As a Microbiologist with Orogenics Bruce has remained a close confidant and champion for ReliOx.
He was a Manufacturing Manager for Oxthera, Inc. and also worked as Manager of Vaccine Production for Aventis Pasteur.
His focus on microbiology and the ReliOx product has contributed greatly to the development of the current ReliOx devices and general Chlorine Dioxide capabilities across many different applications.
---